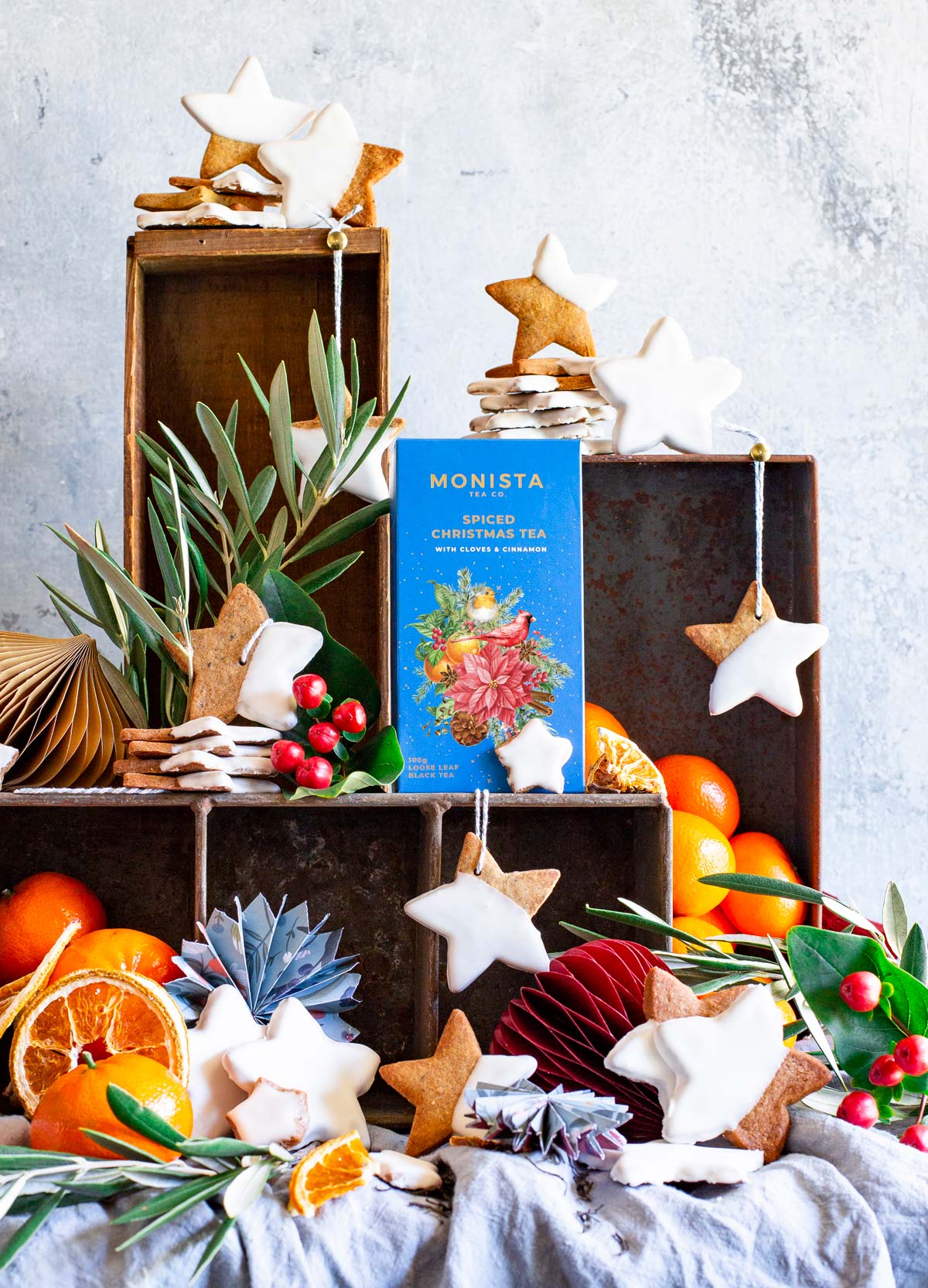 Spiced Christmas Biscuits
(makes 25-30 biscuits)
As pretty as they are delicious, these festive biscuits are flavoured with Spiced Christmas Tea and coated in a shiny orange glaze. Wonderful with an afternoon cup of tea, or strung up as edible decorations.
2 teaspoons Spiced Christmas Tea
200g plain flour
¼ teaspoon bicarb soda
Pinch of salt
½ teaspoon ground cinnamon
½ teaspoon mixed spice
125g unsalted butter, cubed
110g caster sugar
1 egg yolk
2 tablespoons golden syrup
Orange Glaze:
1 egg white
160g pure icing sugar
2 teaspoons orange juice
Place Christmas tea in a small spice grinder or mortar and pestle and grind until fine. Set aside.
In the bowl of a food processor, combine flour, bicarb soda, salt, spices and ground tea. Pulse to combine before adding cubed butter. Keep pulsing until mixture resembles breadcrumbs.
Add sugar, mixing briefly, before adding egg yolk and golden syrup and pulsing until dough comes together. Form into a ball and flatten dough slightly. Wrap in plastic wrap and place in the fridge to chill for an hour or so.
Preheat oven to 160°C (fan-forced) and line two baking trays with baking paper.
After dough has rested, use a rolling pin to roll dough out between two sheets of baking paper until it is 3mm thick. Use biscuit cutters to cut dough into desired shapes, re-rolling off-cuts as necessary.
Place biscuits on lined trays leaving a couple of centimetres gap between biscuits and use a skewer to make a hole in each biscuit, for the string to go through, if using for decorations. Bake in the oven for 10-12 minutes or until biscuits are golden brown. Allow to cool on trays.
When biscuits are cool, make orange glaze by mixing egg white in a mixing bowl until frothy. Add icing sugar and orange juice and mix until smooth.
Place biscuits on a wire cooling rack set over a baking tray and spoon over glaze. Allow glaze to set before threading string through biscuits if using as decorations. Otherwise transfer biscuits to an airtight container and store at room temperature for up to a week.